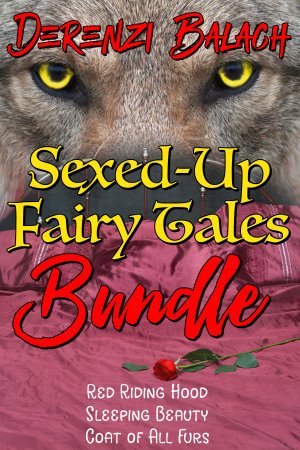 Title:
Sexed-Up Fairy Tales Bundle 1
Series:
Sexed-Up Fairy Tales #

3.5
Genre:
Bundle
,
Erotica
,
Paranormal
Themes: Fairytale retelling, tricked, mind control, sleep sex, breeding, pregnancy, incest, forced pleasure, bondage, sex toys
Length: 18,970 words

The Brothers Grimm never imagined these three fairy tales quite like this.

Red's Wild Romp -- Erotica retelling of Red Riding Hood where the horny wolf won't be satisfied until he's creamed every hole and made Red beg him for more. But greedy wolves chance running into hunters.

His Sleeping Slut -- Erotica retelling of Sleeping Beauty where Prince Warin finds the fabled sleeping princess of an enchanted castle and enjoys seeding and breeding the perfect lover who will never wake up...until she does.

Alia's Taboo Vow -- Erotica retelling of Coat of All Furs (don't worry if you don't know it). She gave the king an impossible task to get out of being his bride, and he met it. Now she has to marry her own father and let the entire kingdom bear witness to their wedding night.
Also in this series:
Release Date:
May 18, 2016
ISBN13:
9781634750271
Published by:
DZRB Books