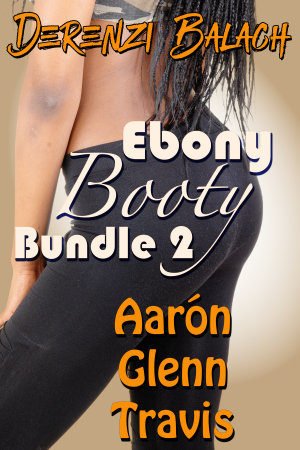 Title:
Ebony Booty Bundle 2: Aarón, Glenn, and Travis
Series:
Ebony Booty #

6.5
Genre:
Bundle
,
Contemporary
,
Erotica
Themes: Older man, interracial bwwm and bwlm, on-the-sly, car sex, public sex, domination
Length: 15,180 words

Ebony has added three more of her father's friends to her list of lovers:

Aarón Herrera - He has medium physique was comfortable but tight. A black anchor-style beard graces his chin. There is always an amused twinkle in his brown eyes, and he has the hint of a tattooed feather peeking out of the collar of his shirt.

Glenn Heller - His violet eyes are his best feature. He isn't hard-body handsome and his salt-and-pepper hair used to be pure black but was now receding. His muscles aren't defined, and he has the beginnings of a spare tire, but he can lift a full keg one-handed without any effort. He always wears short-sleeves, even in winter, so he can show off his full-sleeve tattoos.

Travis Jordy - Baby-blue eyed corn-fed country-boy type, who appears ten years younger than he really is. Sun-bleached blond hair from working outdoors doing construction and a perpetual five o'clock shadow graces his square jaw.
Also in this series:
Release Date:
May 29, 2016
ISBN13:
9781634750394
ASIN:
B01GBVIZ3A
Published by:
DZRB Books