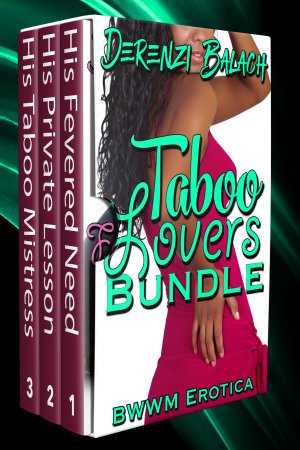 Title:
Taboo Lovers Bundle
Series:
Taboo Lovers #

3.5
Genre:
Bundle
,
Contemporary
,
Erotica
Themes: alpha male, interracial bwwm, older/younger, stepfather, breeding, cheating, forced pleasure, spanking, bondage
Length: 16,200 words

Three short stories featuring lustful men giving the women they raised some special, loving attention.

His Fevered Need — When the man of the house says he wants to hear the pitter-patter of little feet around the house again, he gets what he wants and Alexis will enjoy giving it to him.

His Private Lesson — The man of the house is giving Jocelyn a hands-on education in the sensual arts. Practice and repetition are key. He won't be satisfied with her progress until she is.

His Taboo Mistress — Mikala pretended to be his lover as a joke. The man of the house refuses to let her be branded a liar, and she learns just how pleasurable honesty can be.
Also in this series:
Release Date:
May 13, 2016
ISBN13:
9781634750257
ASIN:
B01FLGW1YU
Published by:
DZRB Books